Can you do it? Yes, you can, and I can help
Do-It-Yourself Plumbing info you can actually use!
Latest Video:
The P Trap. How to take it apart and properly reassemble one. Covering all the differnt connections.
See it in the Drains section
Check out this Easy Garden hose trick to keep you dry and get better flow and control.
See it in the Product Reviews section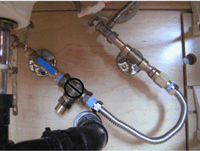 We review theWaterQuick Standard with Bridge Valve by Fasterhotwater.com
New Book
Introducing Greg's new book "All About Water" now available in paperback and ebook formats.
This fun illustrated book tells the complete story of water. Readers learn about water use, re-use, plumbing design and much more. The history of water through the ages and municipal codes governing public water supplies are also discussed. It is a fun and educational book co-written by a LEED-AP plumbing professional with over 40 years experience.
During October, get 25% of the original price of $19.95 with your pre-order!
Click Here to buy
About DIY Plumbing Advice
Here we strive to provide you with plumbing and water information that is reliable, responsible, and free. The purpose of this site is to show YOU how to do it, not just to show an abbreviated video of how I did it. A plumbing glossary is included on each subject page.

Avoid turning "Do It Yourself" into "Damage It Yourself" - Be Informed!
What do people say?
"As a plumber in Florida, I can and will say good job. You made this simple for a home owner. And you can save home owners some money! I work for myself and when I get calls for this I wonder why they haven't looked for this on Youtube. Good work! "
One of many comments from my YouTube channel.
See more comments on the comments page
Don't Miss:
Select your Subject