Responsible Plumbing Issues
This series of podcasts and videos is about the responsible use of water, without involving politics, hysteria, allegations, half-truths, or the passion on either side of the "green" label.
I believe that every human is entitled to water and air. By our actions we are starting to deny usable water for drinking to people.
Saving water inside your home.
Sink Positive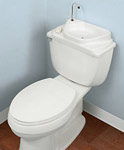 Save Water, Money, Space, and the Earth.
SinkPositive is a retrofit for your toilet lid that turns it into a sink, delivering a clean, environmentally friendly, and touch-free hand wash with every flush.
As a retrofitted sink basin, SinkPositive delivers a touch-free hand wash with every flush. It's simple to install, and even easier to use. By rerouting clean water from the supply line, the water runs through the faucet for a touch-free hand wash and then drains directly into the bowl. The reuse of this soapy water to refill the bowl helps in saving gallons of water each day, as well as promoting hygiene and breaking the transmission of diseases. As energy prices continue to rise, SinkPositive is a win for the environment and your wallet.
Visit SinkPositive.com to find out more.
Podcast
Greg talks about water saving shower heads that really work, and other ways to save water in side the home without giving up anything.

10 Essential things to know about your plumbing
Whether you own or rent, you need to know these 10 things about the plumbing in your home. Prevent damage, detect leaks, know what to do in a water, gas, or sewage emergency.
See the 10 Essentials video.
The Water Cycle
This podcast provides a general overview of water, the water cycle, and human use of it. Where it comes from, how does it get to our homes, where does it go, and what is its life cycle. We cover well water and city water supplies.
We'll touch on what is considered to be waste water (the definition may surprise you), and the distinction and different treatment of storm water, and household waste water, as well as drain venting.
Also: Pressure regulation: which includes pressure reduction or boosting. Did you know that high water pressure is the largest cause of plumbing problems? .
Should you be alarmed about "toilet to tap?" What about pharmaceutical residues in waste water? I'll give you some perspective. Duration 22:45

The Cycle of Insanity
The Cycle of Insanity: The Real Story of Water from Surfrider Foundation on Vimeo.
The Cycle of Insanity: The Real Story of Water is a short, animated film made by a collaboration of creative and dedicated volunteers at the Surfrider Foundation. Several local Surfrider Foundation chapters combined their talents and funds to create the film -- and then actor Zuleikha Robinson of Lost, generously agreed to narrate it.

The premise of the film is that the water cycle we all learned about in the 4th grade has been dramatically altered over time, leaving us with a broken system that wastes water and energy, pollutes our natural waterways, harms critical marine life, and poorly deals with flooding and other water management problems.

The film serves to take a holistic look at water management, highlight controversial problems, and suggest solutions that integrate multiple economic and environmental benefits. The intended audience includes entire communities: from homeowners and the general public, to public agencies and elected government officials.

http://www.knowyourh2o.org

The DVD is now available for purchase through Amazon! Get your copy here: https://www.createspace.com/290941
Downstream
The majority of the world's population drinks from rivers and streams that have received discharges from upstream users. In most of the industrialized developed world, there are treated wastewater discharges that become a source of drinking water supply for downstream users. It is nothing new. We've been doing it for centuries. What is new is that today's technology makes it cleaner and safer. Water reuse is the key to a sustainable future.
Learn more about the Downstream Research Study and watch the video below.
For additioanal resources, see http://athirstyplanet.com.
Reusing Water
This podcast provides an introduction to water reuse around the home. What water reuse means, different types of reuse, what water can and should not be reused and an overview of some typical reuse setups. Duration 14:17

Additional information on greywater reuse including several DIY projects can be found here: http://greywateraction.org/
Saving water on your lawn and irrigation system.
Learn about "the white elephant" in your yard. Water auditing, new irrigation controllers that may allow you to skip water rationing restrictions, and how to save 15-20% on your water bill.
Link to the Irrigation Association (mentioned in the podcast)

Glossary for Responsible Plumbing
dynamic
Flapper valve
FOG
Gray Water
Green Plumbing
PTRV or T&P
Push Fit Fitting
Septic/Drain Enzymes
Water Pressure Regulator
Frequently UNasked Questions;